The Synod Working Party
From the outset of the Synod, the Bishop is obliged to constitute a preparatory commission.
The members of this preparatory commission are chosen by the Bishop from amongst the clergy and other faithful who are distinguished by their pastoral prudence and by their professional competence and who, in so far as possible, reflect the various charisms and ministries of the People of God.

Archbishop Malcolm McMahon, Synod President
The Most Rev Malcolm Patrick McMahon OP was born and brought up in London, the second of three brothers. When he left school, he studied mechanical engineering at the University of Manchester Institute of Science and Technology. He then worked in the transport industry before joining the Order of Preachers (Dominicans) in 1976.

He made his religious profession in 1977, and studied philosophy at Blackfriars, Oxford and theology at Heythrop College, London. He was ordained to the priesthood by Cardinal Basil Hume on 26th June 1982.

He has served as Catholic Chaplain to Leicester Polytechnic (now De Montfort University), as parish priest in Newcastle and London, and as Prior Provincial of of the English Province of the Order of Preachers. In 2000 Pope John Paul II appointed him ninth Bishop of Nottingham. He was installed as the ninth Archbishop of Liverpool on Thursday 1st May 2014, the Feast of St Joseph the Worker.

Archbishop McMahon is Chair of the Bishops' Conference Department of Education and Formation, the Catholic Education Service (CES). He is also National President of Pax Christi, the International Catholic Movement for Peace.

Fr Philip Inch, Synod Moderator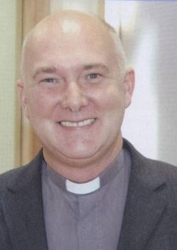 Fr Philip has been a priest of the Archdiocese of Liverpool since 1982. He loves being a priest and, if he could make life choices all over again he says that he wouldn't hesitate to do the same again.
He has worked in many parts of the diocese and has been Episcopal Vicar for Evangelisation since 2005 when he was part of the organising team for Leaving Safe Harbours.
He says of Synod, [it] is a wonderful moment in the story of the Archdiocese when together, under the guidance of God, we can all play our part in shaping the future. I was excited, delighted and terrified when the Archbishop asked me to take a lead role in making the Synod happen.
Fr Philip loves reading, going to the theatre, and sun-bathing. He is an Evertonian, a cross he has to bear!


Fr Matthew Nunes, Synod Moderator
Fr Matthew has been a priest of the Archdiocese since 2000. The challenges of being asked to serve multiple parishes sparked his interest in change management, facilitation and team work as a way of responding positively to changing parish realities. He has a passion for fell running which, as well as being an effective way of blowing away the cobwebs, feeds an appreciation for the beauty and fragility of God's creation. As Episcopal Vicar for Formation he works with many gifted and talented people who seek to support so many as they deepen their faith and encounter with Christ.
Sr Rachel Duffy FCJ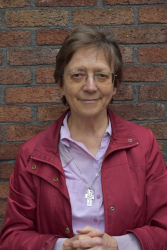 Sr. Rachel Duffy was born in 1949 in Preston, Lancashire, where she grew up. She made first profession in Sisters Faithful Companions of Jesus (FCJ) in 1970.
She studied English in Liverpool University 1970 -73 and PGCE in Sedgley Park College, University of Manchester. She taught in Secondary schools in Salford and Hertfordshire for eleven years.
After a pastoral theology diploma year in Heythrop and a year in Craighead SJ retreat centre Glasgow, she spent 15 years in Manila, Philippines and seven years in Yogyakarta, Indonesia, in formation of young religious, pastoral work with youth, catechists and basic Christian communities, and English teaching.
Since 2011 she has been in Liverpool, volunteering primarily in the Liverpool University chaplaincy and the Reader Organisation.


Fr Stephen Pritchard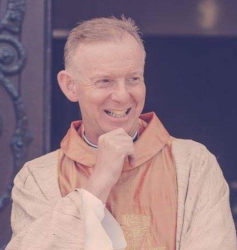 Fr Stephen Pritchard has been Parish Priest Of Our Lady of the Assumption Gateace since 2015 and combines this role with being chaplain at Liverpool Hope University.
Previous to being parish priest he was an Associate Dean at Hope University. For twelve years he was Director of Youth Ministry for the Archdiocese of Liverpool setting up Animate Youth Ministries. He has also served as the Catholic Chaplain to Liverpool City Centre and was part of the Liverpool City Centre Ecumenical Team. In over twenty years of ministry he has also been a school chaplain, hospital chaplain, assistant priest as well as ministering in Kennett prison.
He has ministered in various places in the Archdiocese including Fazakerely, Old Swan and St Helens. He has a degree in Theology and Ministry from Durham University, a Masters in Theology and Youth Work and is a professionally qualified Youth and Community Worker. Fr Stephen is also the Dean of the Woolton and Halewood Pastoral Area.




Debbie Reynolds
Debbie is a Pastoral Assistant at St Francis Xavier's Church working with and for the Jesuits (Society of Jesus). She is married to Pete and they have a 23-year-old daughter Beth.
Debbie is a volunteer marriage preparation facilitator with Marriage care and works with the Lourdes Youth Pilgrimage as coach staff. She is part of the Father James Nugent Pastoral Area Team, which plans training and support sessions around catechesis, liturgy, and social concerns.
Debbie is passionate about Liverpool Football Club and proud to be a Kopite, most of her diary revolves around home games! She is looking forward to being involved in the celebrations and encouraging shared stories around Synod 2020 which will shape the future pastoral priorities of the Archdiocese of Liverpool.
Fr Mark Beattie
Fr Mark Beattie is the Parish Priest of the parishes of St. Oswald, Old Swan and St. Sebastian's, Fairfield, in Liverpool. That's at the end of the M62 heading towards the Cathedral.
Fr Mark chairs our Synod Liturgy Group which hopes to provide resources to help us to pray, and to listen to God's voice guiding us on this journey.
If you have any suggestions or comments about how we can pray together in preparation for Synod 2020, the Liturgy group would be very happy to hear from you. Contact us via the Synod Office






Maureen Knight
In February 1982 The Pastoral Formation Department was launched and Maureen became part of the team. Since then she has always been part of the planning groups for the Archdiocesan Pastoral Councils and other Diocesan Assemblies which have taken place over the years.
Maureen's main work focusses on the support of people in ministries of pastoral care, including Bereavement Care Teams, Lay Funeral Ministers, and those involved with people living with dementia or other mental health issues. She chairs the archdiocesan Lay Funeral Ministry Committee and the Dementia Working Group, offering initial formation, continuing development and days of reflection for those involved in these ministries.
Fr Dominic Curran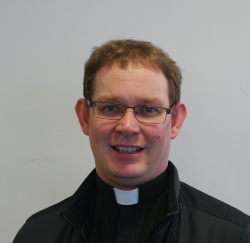 Fr Dominic is Parish Priest of Our Lady Star of the Sea and Saint Thomas of Canterbury Parish in Seaforth and Waterloo.
Fr Dominic was ordained in 2009 for the Archdiocese of Liverpool and been Parish Priest in Seaforth since 2014. He has had a varied ministry as a priest, serving in several parishes and hospitals. He has been a chaplain in multiple Hospital Trusts both acute care and mental health. He has also been chaplain on a youth coach on the Archdiocesan Lourdes Pilgrimage since 2008.
He says, [a]ll my experiences and the people I have met along the way lead me to be excited about where the Holy Spirit will lead us as we embark on the journey of Synod 2020.
Kate Wilkinson
Kate is school chaplain at All Hallows Catholic High School in Penwortham, Preston, and National President of the Young Christian Workers (YCW).
Kate has worked in youth ministry for 9 years having started out with the Salesian Sisters before working as a school chaplain for the last 5 years. She studied theology at Heythrop College, London.
Kate has a real passion for engaging young people in the life of the Church but importantly first offering young people an opportunity to find a true and personal relationship with Jesus. Alongside life as a chaplain and YCW National President Kate has worked with a number of parishes and dioceses helping them to look at how they welcome, engage, and form young people.
Manchester City is always included in her weekends and, due to the success of the team, more frequently on week nights too. When there is any time to spare Kate enjoys reading, listening to music and spending time with friends and family.
Matt Jeziorski, Synod Co-ordinator
Born and bred in Warrington, Matt has spent the last eighteen years living and working in a variety of places around the country engaged in Catholic Youth Work. Most recently he was he Education Worker for Pax Christi for nine years before returning home to the Archdiocese of Liverpool to take up the role of Synod Co-ordinator.
Matt is a railway enthusiast, a keen football fan [Port Vale], and enjoys a pint of real ale. Having moved back to Warrington he is particularly delighted at having the opportunity to once more have a season ticket for the Warrington Wolves. He has just completed his quest to visit all 92 football league grounds and loves a good seaside pier.